Kaftan is a long tunic with front buttons. Often the dress is till knees and sometimes till ankles like a gown. Kaftan tops are becoming popular these days in India and Eastern countries. Designer kaftans are worn in party and family functions. Kaftan dresses are made of cashmere, cotton, silk and georgette material. Prettyporter.com.au has 100+ Kaftan designs to shop online. Prettyporter.com.au also has online shopping of Kaftans with international delivery to over 100 countries including US, UK, New Zealand and Canada.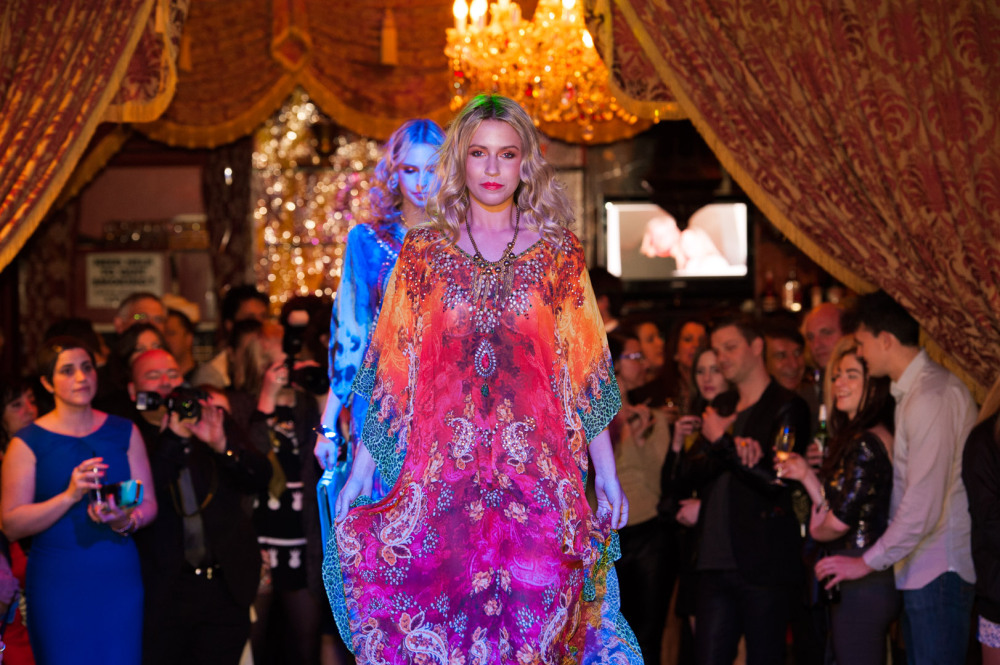 A kaftan or caftan (Arabic: قفطان qaftân) is a variant of the robe or tunic, versions of which have been worn by several cultures around the world for thousands of years. The kaftan is often worn as a coat or overdress, usually reaching to the ankles, with long sleeves. It can be made of wool, cashmere, silk, or cotton, and may be worn with a sash. The caftan is of ancient Mesopotamian origin, and was worn by many middle-eastern ethnic groups. (Source from Wikipedia Kaftans
Buy Kaftans Online at PRETTY PORTER
Amanda Morgan has spent her entire working life, over more than 25 years in the fashion industry. Amanda has owned her own boutique business's since she was only 15 years old, as fashion has always been her passion with a natural talent beyond most in the fashion industry.
This has lead her to success after success… from owning franchises, to her own individually created boutiques which have become more prestigious with time, and shows her true expression of natural talent together with a world of knowledge she has developed to reflect her own individuality.
Amanda has an amazing ability to style women of any age, size and lifestyle. During her time at Melrose in Brighton and Dominex in Toorak, it became obvious that there is a true need to dress women to suit their requirements in every day life… to maximise style, occasional wear and most importantly creativity and an eye which creates personal results far beyond any expectations.
Designer Kaftans
At Pretty-Porter we believe in elegance, sophistication, and beauty –and that's exactly what we deliver. We have a fabulous range of kaftans online that are available for purchase today. Our kaftans are so versatile that they can be worn to any event or occasion. Whether you're jet-setting to the Caribbean or attending an extravagant party, one of our kaftan dresses will make you the centre of attention.
All of our gorgeous kaftans in Australia are designed for warm weather and hot climates. We use the softest fabric that lends itself to the flowing design, giving you room to move freely and easily. Not only is the fabric soft, but it presents bright colours extremely well, ensuring all of our glamorous designer kaftan dresses are beautifully vibrant. From deep blues to candy pinks, from fierce reds to shimmering golds, our fashionkaftans are truly eye-catching.
If you are looking for a beach kaftan, a daytime kaftan-style dress, or any kaftan in between, Pretty-Porter has the solution for you. All of our designs are suitable for any purpose, giving you the freedom to wear yours whenever you like. Their versatility makes them perfect for travelling – a kaftan is ten outfits in one! You can dress them up with heels and jewellery or keep it casual with thongs and sunglasses.
Wearing a luxury kaftan dress from Pretty-Porter is guaranteed to make you feel like a goddess – buy your kaftan online today. If you have any questions, please don't hesitate to Contact Us.
A Brief History of Kaftans & Their Popularity Among People
Kaftans have acquired various styles, purposes, and names depending on the culture. In numerous regions with a hot climate, the kaftan is worn as a light-weight, loose-fitting clothes. The kaftan has served as a sign of royalty in a few cultures and as a sign of marriage in others during some parts of history.
Kaftans were worn by the Ottoman sultans in the Ottoman Empire. The decorations, as well as the patterns, colors, ribbons, buttons and ribbons indicated the rank of the person to whom they were presented. From the 14th century to 17th centuries, textiles by large patterns were used. The attractive patterns on the fabrics became together slighter and brighter in the late 16th and in the 17th centuries. Via the second half of the 17th century, the most worthless fabrics were those with 'yollu': vertical stripes with a variety of embroideries and little patterns, the so-called "Selimiye" fabrics
The kaftan was reintroduced to the West in Russia in the 1890s when Alix of Hesse wore the traditional Russian kaftan at some stage in her coronation. This conventional kaftan resembled the ones worn by Ottoman sultans and contrasted from the tight-fitting dresses among corsets widespread in England at that moment. The kaftan little by little earned reputation for its exoticism and as a form of looser-fitting clothing. French style designer Paul Poiret promote popularized this style in the early 20th century.
In the 1950s, fashion designers such as Christian Dior and Balenciaga adopted the kaftan as a loose evening gown or robe in their collections. These changes were usually sashless.
In West Africa, a kaftan is a jumper robe. Kaftans are worn via both women and men. In West Africa, the female robe is called a kaftans, and the male robe is called the Senegalese kaftan.
A Senegalese kaftan is a pullover men's robe along with lengthy bell sleeves. In the Wolof talking, this robe is known as mbubb and in French it is known as boubou. The Senegalese caftan is an ankle length clothes. It is worn with similar drawstring pants called tubay. Normally prepared of lace, cotton brocade or synthetic fabrics, these robes are normal all the way through West Africa. A kaftan and matching pants is called a kaftan suit.
Now days, A designer named Amanda Morgan, serving Australian Women with her beautifully designed glamorous kaftans. She is the owner of the Kaftans shop named "Pretty Porter". All of her kaftans are unique & perfectly designed for any event or occasion. You can choose a one for you from a wide variety of her kaftans like beach kaftans & tunics, blue royal kaftans, Green Fever: Indian Kaftan Top and many more. So enjoy wearing these kaftans in summer season & feel free