Product Description
LONG EXOTIC TIGER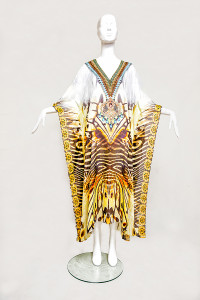 This kaftan is called LONG EXOTIC TIGER because this is what you will feel once you try this on. This is a show stopper. The crystal embellishment brings the colour aqua out which allows the tiger print to be visualised as a strong and powerful tiger skin.………… This length shows high levels of sophistication and will be a masterpiece in your wardrobe.
LONG EXOTIC TIGER
WASHING INSTRUCTIONS
COLD HAND WASH IS PREFERRED FOR 100% HIGH QUALITY VISCOSE FABRIC. GENTLE SOAP. DRYCLEAN.
Kaftans DESIGNED IN AUSTRALIA MADE IN INDIA